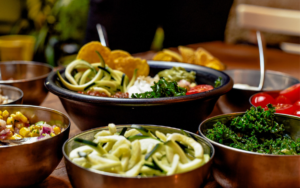 The modern approach to weight loss, including scientific, is not working as evidenced by the growing numbers of overweight and obese adults and children in the United States.  More than two-thirds of adults in US are overweight or obese. About 17% of American children ages 2 – 19 are obese and one in eight preschoolers is obese.
Being overweight puts you at higher risk for dozens of health conditions including certain kinds of cancer, heart disease, stroke, and type 2 diabetes.  A study from France confirms that obesity and depression are linked. A new approach has been warranted for a very long time. 
I created my Holistic Weight Loss Program in 1992, a proven WholeHealth approach that brings sustainable results in body and mind. I've helped thousands of frustrated men, women, and children who have been chronic dieters trying every latest fad, even dangerous drugs and surgery, with little or no results. Or, worse yet, more weight gain and health challenges. These clients not only lost weight but also reversed many health issues and gained emotional freedom from the bondage of dieting with my help. Scroll down to read testimonials.
The Myth of One-Size-Fits-All
There are many popular weight loss fads and trends with each offering the perfect diet for everyone, regardless of one's unique condition. Many of these plans contradict each other. They each may work for some people some of the time.  However, each one is limited by a narrow and fixed way of thinking. Their ideals and methods differ, but their principle is the same: everyone should eat according to the same rules.
No two people are the same, and there is no right way that works for everyone. Food does not affect everyone the same way. Magic bullets, quick fixes, and extreme diets bring frustration, wasted money, and more weight and health problems.
Whole Health Approach
My mission is to help you create a healthy, fit body and mind in safe, healthy, effective, sustainable ways while restoring good health. Dieting, counting calories, deprivation, sacrifice, and drugs with harmful side effects are not part of good health or my program. It is not my intention to strengthen your ability to diet, but to educate you to listen and interpret the messages your body is giving to you.
One of those messages is to stop trying every fad diet and learn how to eat for your unique constitution and condition. Doing so will leave you satisfied, without cravings; looking and feeling younger; more energetic; with better digestion, sleep, and emotions; a clear focused mind; and without excess weight.
I treat the whole person. It is not simply a matter of reducing calories and exercising more. Thousands of people have tried that approach with little or no results. Many previous dieters who have become clients tell me they can't eat as much food as I recommend.  
Certain foods create an internal condition that make it very difficult for weight to come off. Some of these foods are commonly believed to be healthy.  Read my blog post, 3 Reasons You're Overweight, to learn more about others who, with my help, uncovered the real cause of difficult weight issues and reversed them
Weight Issues are a Symptom
It's essential to get to the root cause and transform it. Your body, mind, emotions, and spirit are not separate. Every choice you make affects all aspects.
Overweight conditions, like all imbalances, are supported by unhealthy thoughts, emotions, attitudes, and lifestyle. The excess weight is often a manifestation of thoughts and personal truths that feed the condition; and/or long-held negative emotional states with no tools to transform them; and a belief that you are somehow unworthy or not good enough.
If you're looking for another fad diet to follow, my approach is not for you. Dropping the dieting mentality is an important beginning step in our work together.  Instead, make your goal balanced health at all levels. Doing so takes off the pressure, and pressure keeps weight on. Your body is a reflection of your thoughts, attitudes, beliefs, and emotions.
I can help you see what you cannot see in order to get to the root cause. It is not the amount of calories you are eating.
How I Work With You
The first step is to schedule the Intake Session which is an opportunity for me to learn more about you; your challenges; habits; concerns; how you respond to change; and what you would like to accomplish with my professional help.
I will need your completed Intake Questionnaire and Assessment which can be downloaded here.
Purchase Your Intake Session Here
Sessions can be done via zoom, facetime, skype, phone, or at my Pittsburgh office. I work closely with clients all over the world to customizes wellness programs that work to help them achieve their best possible health and happiness.
After I have determined your patterns, constitution, and condition from the intake session, I will customize PDF recommendations for you which will serve as your blueprint for weight loss, and greater health at all levels. This takes me 2-3 hours. We will discuss your plan at your next session.
Everyone is at a different starting point. Follow-up sessions are necessary and I will determine how many sessions I recommend after your intake session. In part this is determined by the severity of your problems and how long you've had them; your mental/emotional state; and other factors.
I will help you
Learn to eat for your unique condition
Build a healthy relationship with food
Understand and eliminate cravings
Improve metabolism
Eliminate belly fat
Understand why calories don't always count
Recognize and eliminate self-sabotage
Create healthy self-esteem (doing so will improve weight loss)
Eliminate stress and emotional eating
Recognize and transform thoughts and beliefs that oppose your healthy, fit body
Create and maintain the right mindset for sustainable success
Make sense of contradictory dietary information
Learn to choose wisely at social events and when eating out
Systematically change habits that are working against you
If you have questions regarding my approach please contact me using the contact form.
I look forward to helping you create a healthy, fit body and mind in safe, effective, satisfying, and sustainable ways, and permanently ending your struggle with weight issues.
Testimonials
"I consulted with you for help in losing weight. Following your advice I did lose 12 pounds in 7 weeks but more importantly the 3 thyroid nodules I had are now two. One of them has gone and the other two are shrinking. I no longer feel the pain and swelling in my throat; my painful periods have become normal and I no longer have sweats; my hair has stopped falling out; I am no longer constipated and bloated; and was able to eliminate anti-depressants. I don't feel stressed and pressured anymore, and now feel happy and peaceful.Thank you so much for coming into my life. I am eternally grateful for your wisdom and am referring all of my friends to you." L.S., Pittsburgh
"….I'm feeling really good! I've been enjoying walking and lost another 5 pounds these past two weeks. Occasionally I think back to some of the negative thoughts that plagued me and they no longer have an effect on me. I feel like I am becoming free. I am seeing and experiencing new possibilities that are wonderful. I no longer crave sweets. I LOVE ME! I feel like a much younger person. I'm enjoying food for the first time in my life. The ideas in your workshop have been new to me and I've found it easy to follow through on them…." J.D., Pittsburgh
"After two weeks on the program you created for me, I'm eating a ton of food and am 10.5 pounds lighter. I feel thinner all over.  I'm delighted and I'm satisfied and I'm not killing myself with exercising.  Something is positively changing in my body.  You are just an endless resource of knowledge. Thanks!"  A.J. Pittsburgh
"Anxiety and depression are lifting and that wasn't even why I came to see you. Not only am I lighter (I lost 7 lbs. since I saw you 3 weeks ago), but I feel lighter mentally and emotionally.  In addition, my energy has improved significantly.  Your approach to weight loss truly is "holistic".  I am practicing your "attitudinal" techniques and am really noticing the connections between my mental state and my weight.  You've given me many useful tools.  I'm only sorry I waited so long to schedule with you."  B.M.  Erie, PA
"I've tried every diet in the world. I got deathly sick on Atkins and my cholesterol spiked; Jenny Craig was so restrictive and expensive I couldn't maintain it; with Nutri Systems I was buying expensive, mail order food that tasted like cardboard. Your approach is so flexible and I love eating real food. I am never hungry and have no cravings. I've easily lost all the weight I wanted to lose, and my overall health and energy have improved. Best of all are your inner fitness techniques for quickly working through stress and emotional eating." G. M. Boulder
"Four weeks into the  recommendations you gave to me for weight loss and I have benefited in so many ways….  I have steadily been losing weight without weighing or measuring food or limiting my food intake; the new foods make me feel happier, content, sure of my self, more motivated, and I have more endurance.  My skin has also improved, and mentally I feel much, much better.  Overall, everything has improved."  D.H. Philadelphia
Testimonials  –  Underweight
Within a 15 month period my 16-year old daughter had strep throat, then mononucleosis, then strep throat 4 more times. She has always been very active in sports at school, and with all the illness finally was unable to participate. Her grades suffered as well. She took endless antibiotics which I believe compromised her health in other ways.
She lost 20 pounds (and she was already slender), and was never able to regain the weight, her strength or her health. That is, until we came to see you. I must say I was very impressed at how thorough our sessions were with you. You recommended eliminating certain foods for a while and adding others that you stated would rebuild her system, give her strength and energy and help her gain weight. I do believe that the Chinese herbs you recommended helped to more quickly bring results and enhance the effects of the foods.
As you know, Julie is at a boarding school, so it may not have been so easy for her with the food, except that you found ways for her to choose wisely and make it work. We are so grateful to you. Julie has put on 15 pounds, is back playing sports, is feeling energetic and enthusiastic, has regained her healthy appetite, and hasn't been sick in the 10 months since we've seen you."
Diana J. Philadelphia, PA