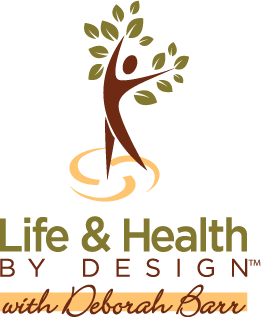 A New Holistic Program for Co-Creating Health, Happiness, Peace, and Prosperity
Created by Deborah Barr
Transform stress, struggle, doubt and sabotage.
Create a healthy, fit body, emotional harmony, and a clear, focused mind.
End cycles of procrastination, lack, poor health, and failure.
Experience happiness in any situation.
Peacefully resolve negative experiences.
I began as a Holistic Health and Nutrition Counselor in 1985. Most of my clients in the early years suffered with cancer and other serious degenerative diseases. Holistic was not popular then and many clients viewed my Holistic work as a last resort. Most had exhausted all medical options. People were searching for a diet to cure their ills.I observed common threads among those suffering with disease. Everyone was stressed and lacking effective tools for understanding and resolving their problems. Many had significant unresolved emotional issues and low self esteem. Still others had no balance in their lives; dysfunctional relationships; and financial and work-related challenges. People's lives were and still are greatly contributing to poor health. In the 80's clients were not interested in the big picture of Holistic Healing. The demand was for nutritional therapy.

Despite modern conveniences and technological, medical, and scientific advancements, people are more stressed, tired, out of balance, sick, discontent, and dissatisfied than ever.Times have changed and humanity has become more aware of the tremendous impact mind and emotions have on health, happiness, and balanced living; Many are conscious of their spiritual nature and that all people and life's experiences are spiritual. This has nothing to do with religion.

All problems start with a misunderstanding of your spiritual nature, and then filter to mind, emotions, body, and life—in that order. Understanding how this relates to your personal challenges will move you to the next level of your happiness far quicker. Spiritually you are unlimited and can co-create anything in your life. This does not mean aligning with any particular religion, doctrine or guru.
Are you …feeling stuckexperiencing lack of money or lack of anythingburdened with health and weight problemsrepeating the same patterns and getting the same unwanted resultssurrounded by negativityallowing outer conditions to control your lifetolerating unsatisfying relationships with people in your lifelacking in confidence and self-esteemfeeling as though something important is missing in your lifeready to consciously design and co-create a healthier, happier, more abundant life…in all ways?

If you've answered yes to any of these, Life and Health by Design™ will give you the tools to transform every aspect of your reality for the better.

The world is complex and options are overwhelming. There's an over-abundance of poor advice being espoused by role models in politics, entertainment, sports, and business who turn out to be frauds, and from those who have little or no training, selling fads to those who are desperately searching for the secret, that one thing that will end their suffering.
The path to transforming your health and life has never been a secret. Many wise, masterful teachers have shared their holistic wisdom for centuries.
This program evolved as a natural outflow of deeply listening to and beyond the words of my students and clients for decades. Why do some heal themselves and their lives while others don't? Their views of life, attitudes, struggles, emotional states, and response or reaction to stress have been very revealing.
The material was developed in response to the personal health issues, life's challenges, and questions from my students and clients. Their questions have stimulated a deeper knowledge and wisdom within me that was first sparked nearly thirty years ago when I began professional training in 5,000 year-old traditional Holistic Healing Arts. I've witnessed many seemingly miraculous health recoveries and resolution and reversal of personal challenges that appeared to be hopeless.

Miracles are your every day potential. Life and Health by Design™ will show you how to co-create them to manifest a more effortless life that flows, great physical, mental and emotional well-being, and an abundance of all good things. You can end the cycles of lack and nearly every problem is an issue of lack.
Isn't it time to take new steps to make your dreams a reality? Have you delayed in the past because the time wasn't right, or there were other things that needed more of your attention? Perhaps you've tried over and over and failed to get the results you wanted and simply gave up. Your goals, dreams, health, and happiness are the most important priorities in life. You're life is happening right now. Don't waste another moment. Get started NOW. Scroll down to purchase this life-changing, transformational program.

~~~~~~~~~~~~~~~~~~~~~~~~~~~~~~~~~~~~~~~~~~~~~~~~~~~~~~~~~~~~~~
Course Summary
This life-changing, transformational Holistic Program provides the foundation and blueprint for co-creating success, happiness, radiant health, and freedom. You'll learn skills and tools to end stress, struggle, procrastination, sabotage, and lack. This course will help you stop fighting against yourself and evolve your life to higher levels by learning and implementing co-creation skills.

You'll understand your life's journey; why you have challenges and their positive purpose; and evolve from a life of crisis management to a life that flows in healthy, abundant ways. You'll gain clarity and create a focused plan; discover what you really want and what stops you from getting it; free yourself from self-doubt and damaging habits and life patterns that have interfered with your greater good.
Course Objectives
Pre-pave for success by working out the bugs that have prevented your permanent success
Integrate Higher Will with your personal will
Find the value, opportunities, and positive gifts in every challenge
Live with joy, peace, passion and abundance rather than struggle
Create much better physical, mental, and emotional health
Understand how food is creating every aspect of your life
Take personal initiative to change rather than waiting for crises to force change
Change difficult situations for the better
Transform negative attitudes and patterns that have been running your life
Understand how your history has created your life's theme which often holds you back
Create a new life theme; a story you will want to live
Strategies to change habitual unproductive, even harmful, ways of doing things
Enhanced ability to communicate effectively within yourself and in the world
Bring peaceful resolution to negative and hurtful experiences
Move on from the past and base your life on a solid foundation
Create mental and physical vitality; be more grounded and focused
Be and live as your authentic, Divine Self
Cultivate belief in yourself, greater self-esteem, and trust in life
Experience happiness in any situation
~~~~~~~~~~~~~~~~~~~~~~~~~~~~~~~~~~~~~~~~~~~~~~~~~~~~~~~~~~~~~~
Course Materials
79-page Course Manual in PDF format that can be downloaded to your computer. This serves as your Course Guidebook and Workbook.

Ten MP3 audio lessons that present each module in detail. These can be downloaded to your computer and mp3 player, even burn onto a CD.

NOTE: the video states there are eleven lessons. I decided to combine two of them after the video was complete, so there are ten. The Course still contains all of the information described in the video.
The Course Manual
Guidebook/Workbook and mp3s are a complement to each other. Please listen to the audio and do worksheet in each module. It's important to use both. Take a week for each module; however, you may want to spend more time on each one and work the program over a longer period of time. If there are things you don't understand, stay with it, or go back to that section at a later time. The program is designed to show you what's been holding you back from your greater good. Things will surface that need to be resolved, released and transformed. This includes ways you may be resisting your greater good.

Module One
Vision and Goals Pave the Way to Success
This lesson demonstrates how to craft an effective vision, an essential first step in getting what you want. You'll learn how inner and outer actions will keep you on the path to success; why you haven't gotten what you want; and inner processes and overlooked techniques for achieving your goals. You use your mind and imagination every day to create nearly everything you are experiencing. You have a lot of power to actualize the life of your dreams. It's vital to learn how to consciously direct that power. Otherwise, you'll continue to get the same experiences over and over.
Module Two
Conscious Co-creation
You are not at the mercy of uncontrollable forces as some would like to believe. You have the ability to change your reality and co-creation is the easiest and most joyful way to do so. You'll learn how you get what you get; the four essential tools for conscious manifestation; and how to take control of your life by partnering with the Divine source of all things that is and always has been within you.
Module Three
Which Voice is Leading Your Life
You are innately equipped with an all-knowing Master personality to help you navigate life's obstacles with ease and confidence. You also have sub-personalities that sabotage your efforts. They are learned and are subject to change. You can train and guide them to be a clear channel for the unlimited wise guidance system that has always been within you. Doing so will cause tremendous leaps forward to co-create a healthy, prosperous life you love.
Module Four
Obstacles, Removing Barriers and Mirroring
A great deal of humanity is unconsciously interfering with their dreams in commonly accepted, unhealthy ways. Discover joyful practices that can unite you with your Divine Self and your happy, successful life. You meet hundreds of versions of yourself each day. The answers you are seeking to change your situation can be found through your experiences with others when you cultivate the vision to clearly see how this applies to you. Challenging people and experiences reflect what you need to work on to experience a healthier, happier life. You'll learn how to interpret this and use it to your advantage.
Module Five
Worthiness
Not good enough syndrome is a major cause of every difficulty. There are many symptoms which are outlined in this module. You can go through the motions of dreaming up your best dreams and taking actions. If you have an underlying belief that you do not deserve, success will be difficult. Or you'll get what you want but soon sabotage it. This module will help you understand the ways unworthiness and not good enough surface, and skills for counteracting their debilitating effects. You'll learn how the two most important relationships in your life greatly influence every other relationship, and the degree of happiness you will allow.
Module Six
Unmet Needs
Needs are what you require to be healthy, happy, fulfilled, and abundant, and there are fundamental needs that apply to everyone. If you believe you do not have time for good self-care, sooner or later you'll have to find time to manage illness and other crises. Unwillingness to do so is self-sabotage. It's difficult for the Divine perfection to work through you if you are emotionally repressed, exhausted, struggling with lack, and without balance in other essential areas. You'll identify and assess your needs and create new habits that will bring energy, good health, confidence, a focused mind, emotional harmony, and much more. Filling your needs in healthy ways will transform your life!
Module Seven
Mind Matters
Do uncontrollable, irrational, gloomy thoughts defeat your good intentions to create a healthy, fit body, and an abundant, fulfilling life? Junk thoughts feed you in more potent ways than junk food and detour you from your greater good. It's crucial to consciously route your mind on the path of your dreams. The thoughts you dwell on create every aspect of your health and life. You'll learn to tame the voice of sabotage; retrain your brain; discern which programs are running your life; how your beliefs create predictable outcomes; and how to find happiness in this moment.

Module Eight
Conflicting Intentions; Pay-Offs; Your Life's Theme
Does it feel as though there's a strong tug-of-war going on within you? You want one thing yet continually make choices that oppose your goals. There are conflicting intentions within you, or you are getting some pay-off from living with struggle and failure. Both need to be identified and released and a new theme for your life created. This module will show you how. Every experience in your life is filling a need and paying you in some way. You'll learn to see your life as a story with a
common theme throughout, and tools to create a new life story that is worthy of you.

Module Nine
Best Practices for a Healthy Mind and Body
The quality of your health and life are strongly influenced by what you put in your mouth. What you eat creates the health of every bodily cell, tissue, organ, and system. Food has a profound influence on the way you think and perceive, and your emotions. The right foods for you will take you in the direction of your dreams. Popular diet trends come and go, and scientific nutrition continually changes its mind about food. In this module you'll learn a sane and sensible approach to food for your whole self; why you have cravings; and many non-food tips for feeding yourself well.
Module Ten
Love
The most important ingredient to health, happiness and freedom is love. This does not mean emotional love which is often conditional. Real love means seeing yourself and others through the eyes of your pure Divine Self. It is not narcissistic or arrogant to love yourself as some have been taught. You don't have to like everyone but it's essential to love them. You'll learn how in this module. You and everyone else came into this world as a perfect expression of Divine love. Denying this is refusing your birthright to co-create your life in delightful, beautiful, and meaningful ways. Working with the Peaceful Resolution Love practice in this module with transform all difficulties.
Program Creator

Deborah Barr
Founder, Whole Health Resources (1985)
30+Year Holistic Health and Nutrition Counselor
Spiritual Psychotherapist
Holistic Life Coach; Professional Herbalist
Shiatsu Therapist; Healer; Visionary
Author; Speaker; Holistic Pioneer
Deborah's work has greatly assisted thousands of people in reversing health and weight issues; creating emotional harmony; and joyful, passionate, prosperous lives they love; peaceful living, and work-life balance.
Life and Health by Design™ was created from my Practical Spirituality program that I developed and taught in workshops in the early 90's. About 10 years ago it transformed in my Creating A Life You Love Program; and recently morphed into Life and Health by Design™. I have decades of experience and thousands of client successes. I hope you'll be the next one.
WHR's mission is to promote the healing and development of body, mind and spirit, and to teach an understanding of the relationship between diet, attitudes, lifestyle and wellness. I offer free help through my two e-newsletters, Holistic Weight Loss, and Whole Health Matters, and free articles. Subscribe to newsletters.
~~~~~~~~~~~~~~~~~~~~~~~~~~~~~~~~~~~~~~~~~~~~~~~~~~~~~~~~~~~~~~~
What Participants Have Said
"This is amazing work! The workbook and audios flow so well. The information is logical and compelling, but also contemplative and compassionate. The concepts are articulated clearly and powerfully. I've been living most of my life with guilt, crippling anxiety, and so much fear that it has paralyzed me. I've felt doomed in every aspect of my life for decades. But not anymore!

"Your Program has taken me through dramatic positive changes internally that have caused freedom, aliveness, better health, and an indescribable lightness in body, mind, emotions, and spirit. You've helped me access my power which has always been within me, although dormant. I've created so many miracles by using the wisdom you impart. I now look forward to each new day and, thanks to you, am finding great happiness in each moment." N. L., Seattle

"There is so much superficial information out there. Your program and the information you provide is just the opposite. Life and Health by Design is filled with relevant, rich content, and is truly life changing. It's impossible to put a price on it. Thanks so much." J.P., Austin

"I had so much success reversing long-term problems and manifesting more of what I want in my life by using the process in Life and Health by Design, I decided to purchase your Healthy, Fit Body and Mind Program."
Linda H., Pittsburgh

"This program helped me to understand how my own history can be holding me back from achieving the healthy weight and fit body that I desire. In the course of the program, I was able to recognize and forgive myself and others for real or imagined transgressions that have gradually lowered my self esteem from the healthy state I was born with. I learned to appreciate my own spirit as well as the fact that I have always and will continue to co-create my life with universal spirit.I thank Deborah for inspiring these insights with her teaching and also for giving me simple tools to help me live more fully in the present moment, where our strength lies. Now I am in a place from which I can articulate and give positive energy to co-creating my desired healthy weight and body. I would recommend this class to everyone who wants to make a positive change in life. This is a terrific course." Cindy C., Pittsburgh

"Your multi-levels of Holistic knowledge have not even been identified by others in the holistic or mainstream field, and I've worked with many. You have offered a river of gifts to me and planted new seeds in me that are blooming quickly. Things have opened up for me. Many opportunities that I couldn't even imagine have come my way. You helped pull me through self sabotage and master the techniques. I am no longer stuck in sabotage and procrastination. I'm immersing myself more in what counts. I was always looking outside myself for answers. Your inner practices have given me the experience of my own internal power to create good health and actualize my personal and professional dreams. You helped me position myself so that I now work with focus and presence rather than drowning in negative "what ifs." M.S., Baltimore

"Deborah gets straight to the core of what's beneath the problems and to the heart of what matters most. She is masterful at understanding the human condition. My life has significantly changed for the better." Catherine E., Memphis

"I've tried to change my health and personal struggles for years on my own without success. I'm so grateful you put this program together. It makes sense in ways that never occurred to me. Healing my health has had a domino effect. Solutions to my personal problems have surfaced — just as you said they would. I will continue to integrate these tools into my daily routine to avoid repeats of past difficulties. Life is wonderful and I haven't said that for a very long time. Thank you!" Kevin G., Cleveland

"I credit the techniques in this program and my personal work with you for eliminating the need for cancer surgery. My health is good now. More importantly I now understand why I have consistently made choices most of my adult life that led to cancer and great unhappiness. I never thought I could change those things that weren't working in my life and so I used many unhealthy things to dull my senses and pain. You've given me new ways of thinking, being, and living in the world that have altered my life in very good ways. It took a while but I can say that I like myself, even love myself." H. K., Boulder
~~~~~~~~~~~~~~~~~~~~~~~~~~~~~~~~~~~~~~~~~~~~~~~~~~~~~~~~~~~~~~~
WHEN:
Whenever you're ready! The sooner you start the sooner
your life will change for the better.
WHERE:
Participate from anywhere in the world. All you need is a
computer to access the program downloads and
Adobe Reader, a free download, to open the Course Manual.
No travel or gas expenses and no time away from home or office.
PRICE:
$299.00
Special Savings through January 15th, 2020.
Save $150 and pay only $149.
Discount will automatically be reflected in your shopping cart.

If you're ready to end struggle and crisis management and live
the joyful, prosperous, healthy life that is your birthright,
Life and Health by Design™ is for you!
Re-pattern your life and make your dreams a reality.
Please Read Our Policy: Fees paid for downloadable programs, distance/teleclasses/online courses/webinars are non-refundable.